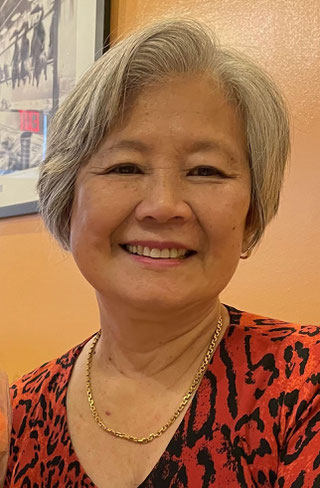 Academic Qualifications
B.Sc. (Honors)    London University, UK
M.S.         Kent State University, USA
PhD         Kent State University, USA

Professional Credentials

CHT    Certified Clinical Hypnotherapist (CHT #105-047) American Council of Hypnotist Examiners
CHt    Certified Hypnotherapist (IMDHA #0108-112152) International Medical and Dental Hypnotherapy Association
CHES    Certified Health Education Specialist (#4240) National Council for Health Education Credentialing
Board of Directors - IMDHA 
Advisory Committee on Education Training Standards - ACHE 
Board of Directors - Tarrant County Association of Mediators 
IMDHA-Certified Hypnotherapy Instructor
IMDHA-Designated Examiner
These endorsements acknowledge Dr Kweethai's knowledge and capabilities as a practicing hypnotherapist. They also reflect her ability to appropriately teach and evaluate hypnotherapy.
HTPI faculty
Master practitioner of Feng Shui (Black Sect Tantric Buddhist School)
Texas Court Qualified Mediator (including Family Mediator)
Texas Collaborative Law (Communications adviser)
Honors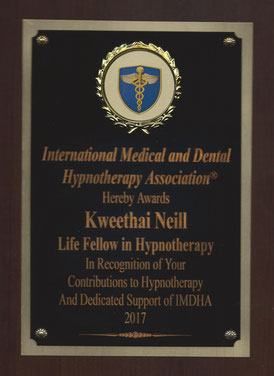 IMDHA Life Fellow in Hypnotherapy (2017)
IMDHA Pen & Quill award (2013)
ACHE honors for Excellent Presentations (multiple years)
Fellow of the American School Health Association (FASHA)
ASHA Distinguished Service Award
Dr. Neill's academic field is health education and health promotion. She has specific expertise in nutrition, communication skills, stress management, sex education, and multiculturalism. Her doctoral program emphasized curriculum and instruction for adult learners.
Author
Hypnotherapy, An Alternative Path to Health and Happiness (2008)
How to Build a $ix-Figure Hypnotherapy Practice (2015)
Personal Motto  
Live Well, Love Wholeheartedly, Learn Passionately, Leave a Legacy

Personal  Values
Integrity, Compassion and Humor